Monthly Archives:
November 2019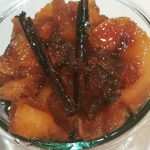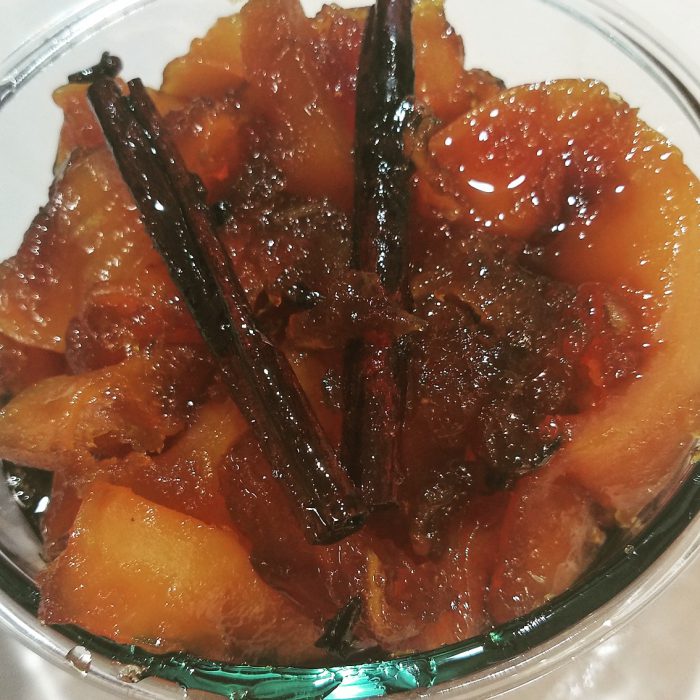 Living in Florida, papayas are very available. Sometimes I have several papayas ready to harvest. That is a great opportunity to make candied papaya  or how we call it in Puerto Rico, dulce de lechosa. I love making it and love eating it even more! Some pieces of dulce de lechosa with a piece of fresh Puerto Rican white cheese, is heaven!
Many people prefer to make their candied papayas using a green papaya. That is fine and makes a delicious candy, easier to handle. But I prefer to use the papaya closer to ripe. I learned that from my Mom, she also likes it with riper fruit. Not the soft ripe, still hard but yellow in color. To me it makes a softer richer candy and thicker darker syrup.
The first step is to soak the papaya pieces in baking soda. Baking soda helps to strengthen the skin of the slices so they won't break much during cooking. There will be some pieces that break some, but it will be minimal compared as without soaking them in the baking soda. You can use any type of you sugar you prefer. I use raw (turbinado) sugar because is somewhere in between white and brown sugar. But you can use brown sugar, white sugar or a mix of both. White sugar is going to give you a much lighter syrup.
When adding your spices, be careful with the cloves. Last batch I made, I dropped 5 or 6 cloves by mistake and left them. It turned out spicier that normal, with a stronger clove flavor, but have to admit, I liked it! Husband didn't care of it much, so more for me!
Accompany your candied papaya with a piece of cheese. Any of the latin white cheeses would go great with it. Gooda and cheddar work great too! The mix of the saltiness on the cheese with the sweet of the candy is fantastic! That was one of my dad's most favorite desserts!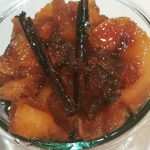 Dulce de Lechosa (Candied Papaya)
Delicious papaya in a tasty syrup, what is not to like? It goes perfect with a piece of cheese!
Print
Ingredients
2

lbs

papaya

From green to almost ripe

1

tbsp

baking soda

3

sticks

cinnamon

2

whole

cloves

2.5

cups

raw (turbinado) sugar

Or brown sugar

1

tsp

vanilla extract
Instructions
Cut the papaya in halves. Peel the skin and with a spoon, remove the seeds and membranes inside. Cut the papaya into slices, approximately 1/2 to 3/4 inch thick.

Place all the pieces in a plastic container and fill it up with water and the baking soda. This will help the slices to stay together and not break up. Soak in the baking soda water for 1 hour.

After the hour is over, drain all the water and rinse with fresh water the pieces of papaya. You might want to rinse twice to make sure all the baking soda is removed from the papaya.

Set a pot in medium-high on your stove and place the papaya pieces, the sugar, cloves, vanilla extract and cinnamon sticks in the pot and start to boil Once is boiling, reduce the temperature to medium and cover, let it cook for 40 minutes. Stir the papaya pieces at least twice during that cooking period.

By this time, there should be a syrup forming cooking the papayas. Check if the papayas are cooked. If they aren't, let it cook covered for 10 more minutes. If they are, remove the cover and let it cook, stirring the papaya pieces gently and keeping an eye on your syrup. Let it cook for 20 minutes.

When the syrup is thick, and a beautiful caramel color, your candy is ready! Let is cook and store in the refrigerator. It will last for several weeks in the refrigerator.
Nutrition Facts
Dulce de Lechosa (Candied Papaya)
Amount Per Serving (3 cups)
Calories 809
Calories from Fat 9
% Daily Value*
Fat 1g2%
Sodium 1126mg49%
Potassium 614mg18%
Carbohydrates 202g67%
Protein 2g4%
Vitamin A 2873IU57%
Vitamin C 184mg223%
Calcium 120mg12%
Iron 2mg11%
* Percent Daily Values are based on a 2000 calorie diet.