Monthly Archives:
October 2018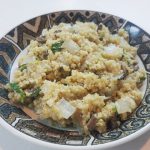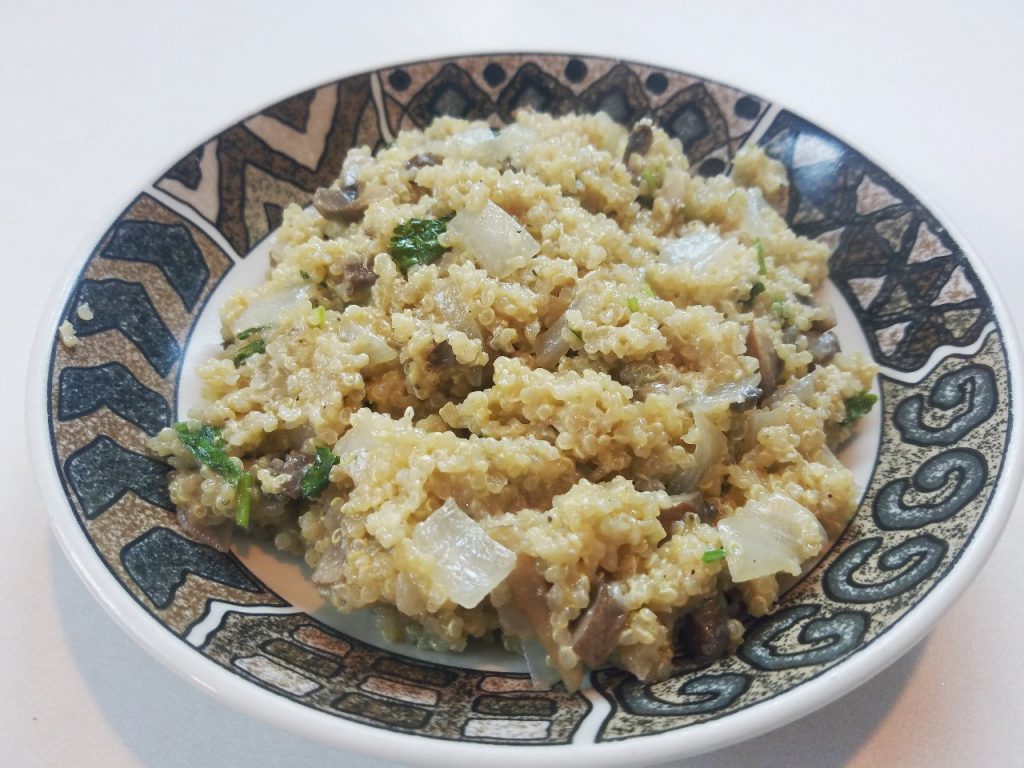 I hear people complain about quinoa. Most don't like it because is too bland. Or too hard. But the real reason is that they are not making it right. Quinoa without any seasoning is boring and bland. Is not any different than rice. If you don't put some seasoning, is not that much fun to eat. That is why I created this delicious recipe! It is like a risotto, but with quinoa instead of rice. The onions and the mushrooms add texture and the cream of mushroom makes it velvety and moist.
Something that makes this recipe pop: the truffle oil! For many years I never used it. Didn't know what it was. But one day decided to get me some. And guess what? I love it! It is musky and full of flavor. It enhances your recipe with or without mushrooms. But at the same time, it can be pricey, or difficult to find. No worries! If you don't have truffle oil, then use olive oil. You won't have the muskiness of the truffle oil, but the freshness of the olive will give a different dimension to your dish.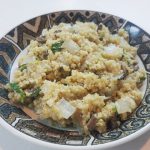 Quinoa with Onions and Mushrooms
Quinoa doesn't have to be bland! This recipe is similar to risotto, creamy and delicious. The onions and mushrooms add a nice texture.
Print
Ingredients
Quinoa
4

cups

chicken broth

2

cups

quinoa

½

tsp

salt
Onion and Mushroom Mix
1

cup

onion

chopped

1

cup

baby Bella mushrooms

chopped

10

oz

can of cream of mushroom

2

tbsp

truffle oil

½

cup

parmesan cheese

¼

cup

cilantro

chopped

1

tbsp

olive oil

½

tsp

Salt

½

tsp

Pepper
Instructions
Quinoa
In a pan, boil the chicken broth.

Once the broth is boiling, add the quinoa and salt. Reduce the heat to medium. Cook for 15-20 minutes or until the quinoa is dry and completely cooked.
Onions and Mushroom Mix
In a separate pan, pour in the olive oil and sauté the onions until they are translucent at Medium-High heat.

Add the mushrooms and cook for 5 minutes. Reduce heat to Medium.

Add the cream of mushroom soup, truffle oil, salt, pepper and mix them thoroughly.

Once the quinoa is cooked, add it into the onion and mushroom mix until it is all blended together. Add the parmesan cheese and cilantro. If the quinoa has the consistency of risotto, it is done. If not, cook it 5 more minutes uncovered.
Nutrition Facts
Quinoa with Onions and Mushrooms
Amount Per Serving (1 cup)
Calories 540
Calories from Fat 189
% Daily Value*
Fat 21g32%
Cholesterol 13mg4%
Sodium 2238mg97%
Potassium 894mg26%
Carbohydrates 64g21%
Protein 22g44%
Vitamin A 225IU5%
Vitamin C 19.4mg24%
Calcium 232mg23%
Iron 4.8mg27%
* Percent Daily Values are based on a 2000 calorie diet.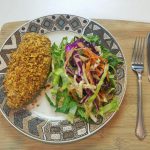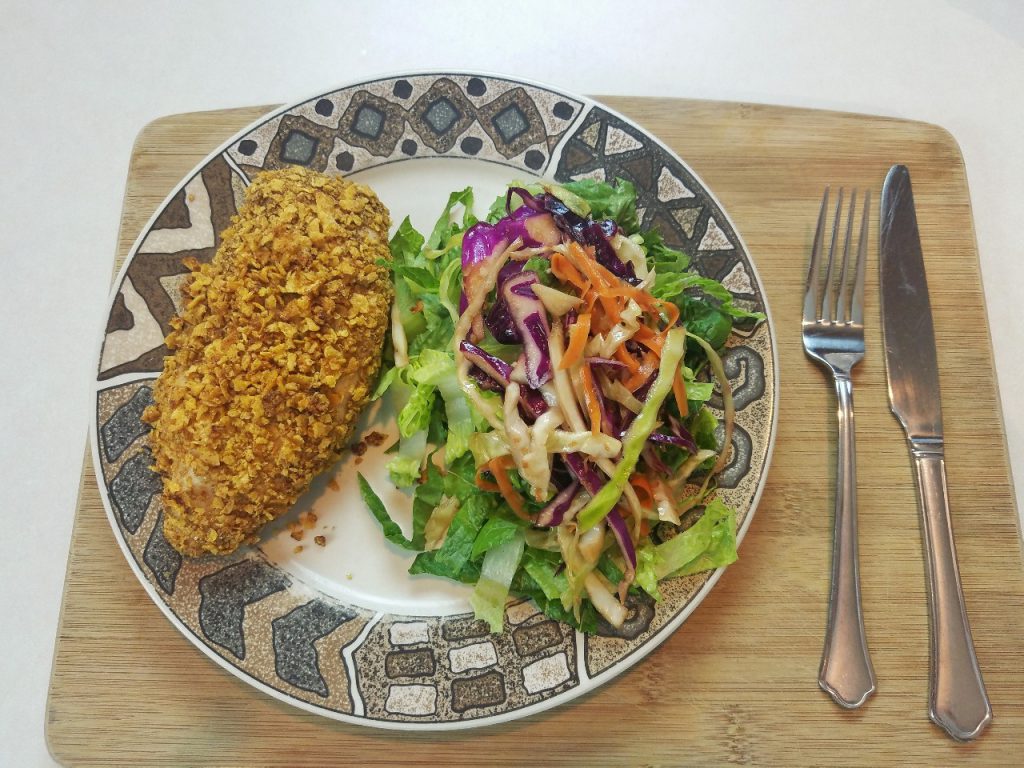 Fried chicken is awesome! I love it! But I don't make it at home. I hate how the kitchen ends after done frying. And the whole house smells like fried chicken for hours after.  So I either bring it home from somewhere already made or eat it at a restaurant.  I have to admit, as much as I love it, I always eat it with a small amount of guilt. Big enough to make me think about it, but not big enough to stop me from eating it. "I should be eating baked chicken." " Lower in calories." " Better for you!" Yeah yeah yeah, but it is not as delicious as fried chicken. Until this recipe! This recipe has all the goodness of fried chicken, is crunchy, with a delicious crust that is tasty and a little spicy. And so easy to make, it is a breeze!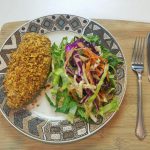 Crunchy Chicken
This is a terrific substitute for fried chicken, all the crunch and flavor, but none of the guilt or greasy stove from all the frying!
Print
Ingredients
4

chicken breasts

skinless

4

cups

corn flakes

1

tsp

salt

½

tsp

black pepper

1

tbsp

garlic

powder

½

tsp

sage

powder

¼

tsp

rosemary

powder

½

tsp

oregano

powder

1

tsp

paprika

½

tsp

cayenne pepper

2

eggs
Instructions
Turn oven on at 350 degrees F

Clean and trim all visible fat from each chicken breast.

In 1-gallon zip lock bag, crunch the corn flakes into very small pieces.

Add salt, black pepper, garlic, sage, rosemary, oregano, paprika and cayenne pepper into the bag and mix thoroughly.

Beat eggs in a small bowl or plate and coat the chicken with the egg.

Place the chicken breasts into the bag with corn flakes and spices and stir until all chicken breasts are covered with the mix.

Place chicken breasts in lightly greased baking sheet.

Bake at 350 degrees for 35 minutes or until the meat is no longer pink.
Nutrition Facts
Crunchy Chicken
Amount Per Serving (1 breast)
Calories 380
Calories from Fat 63
% Daily Value*
Fat 7g11%
Cholesterol 185mg62%
Sodium 1064mg46%
Potassium 883mg25%
Carbohydrates 25g8%
Protein 51g102%
Vitamin A 1060IU21%
Vitamin C 8.6mg10%
Calcium 11mg1%
Iron 9.1mg51%
* Percent Daily Values are based on a 2000 calorie diet.
I make this recipe with chicken breasts. But you could use chicken thighs and it would be as delicious! You could leave the skin on if you want to. I just find the corn flakes stick better to the chicken without the skin.
I have replaced the eggs for coating the chicken with buttermilk. I have also used half and half. They don't work as well as the egg, but if you leave the chicken a little longer in the buttermilk or the half and half, the corn flakes will mostly stick. Once you take your chicken breasts from the bag and place in the baking sheet, take the leftover corn flakes in the bag and encrust them on the chicken. Even if they don't completely stick, the flavor is so good, it will be really crunchy and you will want to eat it!