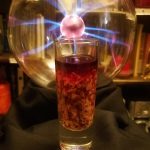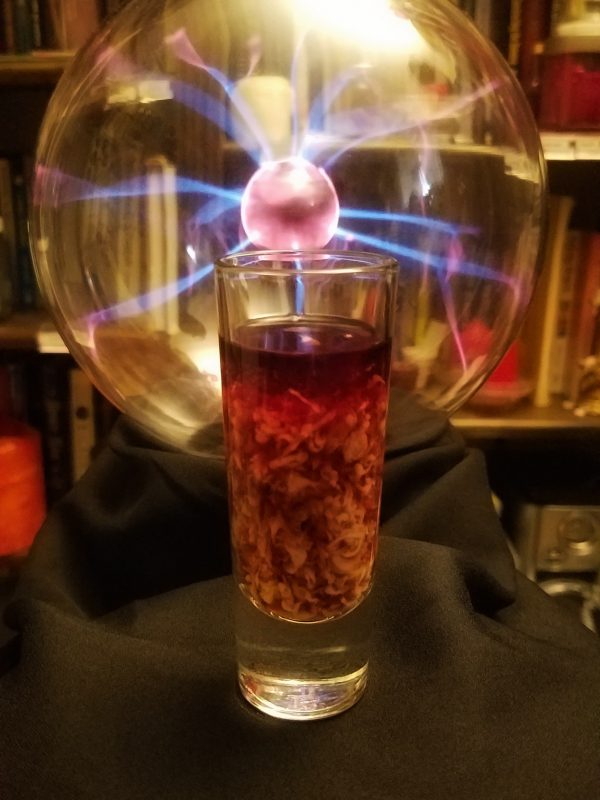 Its Halloween and it was time to make something fun. We made a video of Bat Wings and while we are filming it, we had so much fun making it, I decided we should make a drink video. While I am having my coffee, I started to think I should make a coffee drink. The idea started as an actual cup of coffee with some other stuff. But quickly, morphed into a shot!
I have a bottle of Cooper's Hawk Vin Chocolat Noir, this delicous chocolate wine that even though is good, is a little bit sweeter than my go to dry red wines. I love dry red wines!! So I am thinking, how cool it would be to make a shot with the chocolate wine. I never seen one. Then I am thinking about the visuals, I thought why not add irish cream liquor. I know it gets all brain like when you put it into other liquors. So all I needed was the coffee. I love this Knight Gabriello Italian Espresso Liquor! It is soooo good!! Not too sweet but with a strong coffee flavor.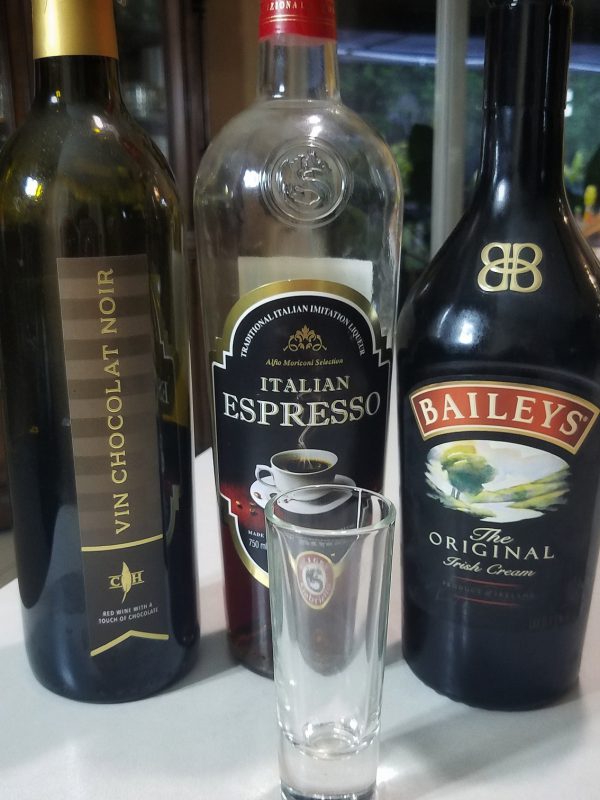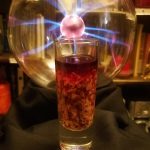 Buzzed Zombie Brain
This shot tastes delicious and it looks really spooky, perfect for your Halloween celebrations or any time you want something different!
Print
Ingredients
.6

oz

Cooper Hawk's Chocolate wine

or any chocolate wine

.6

oz

Knight Gabriello Italian Espresso liquor

or any coffee liquor

.8

oz

Baley's Irish Cream liquor

or any Irish cream Liquor
Instructions
This shot is composed of 3 ingredients divided into equal 3rds. First, pour the chocolate wine filling 1/3rd of the glass. Then pour the espresso liquor, again filling the 2nd 1/3rd of the glass.

With a kitchen syringe or a spoon, slowly drizzle the Irish cream liquor into the shot glass until filled, spreading the cream throughout the glass, giving it the look of a brain swimming into the other liquors.
Recipe Notes
Chill the Irish Cream before preparing the shot for a better effect. 
Serve immediately. The Irish cream will start to curdle when sitting on the glass with the other liquors. Some people will have issues with the texture, but it will not change the taste a bit. 
Nutrition Facts
Buzzed Zombie Brain
Amount Per Serving (2 oz)
Calories 80
Calories from Fat 18
% Daily Value*
Fat 2g3%
Cholesterol 1mg0%
Sodium 1mg0%
Carbohydrates 8g3%
Protein 1g2%
* Percent Daily Values are based on a 2000 calorie diet.
The shot is delicious, is strong, so be prepared for it! I used a kitchen syringe to drizzle the Irish Cream into the drink. But you can use a teaspoon and slowly drizzle the cream into the teaspoon and pour it around so you create the brain look. Irish Cream curdles once is sitting into alcohol for a while, so if you are not a fan of the curdled texture, I suggest you have your shot immediately after you make it.
I want to thank my friend Aracelis Jaffe for the awesome makeup job she did! I had a vision and she made it even better than what I had in mind! And thanks for her husband Ron Jaffe, who is not only a great friend of mine, but the best hand in all of town!! When Aracelis, Ron my hubby Doug and me get together, we always end up laughing too much!! Thank you Ron and Aracelis!
We usually when make drink videos, don't make big productions because they are quick and short. It's Halloween and we wanted to make something fun and different! In the cooking videos, we always add outtakes at the end of the video becuase they are fun. For the drink videos,we usually don't. But we had some funny outtakes happen while making this one, so we decided to make a short outtakes video. We hope you enjoy it!!