Monthly Archives:
November 2018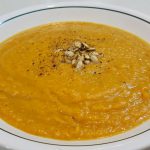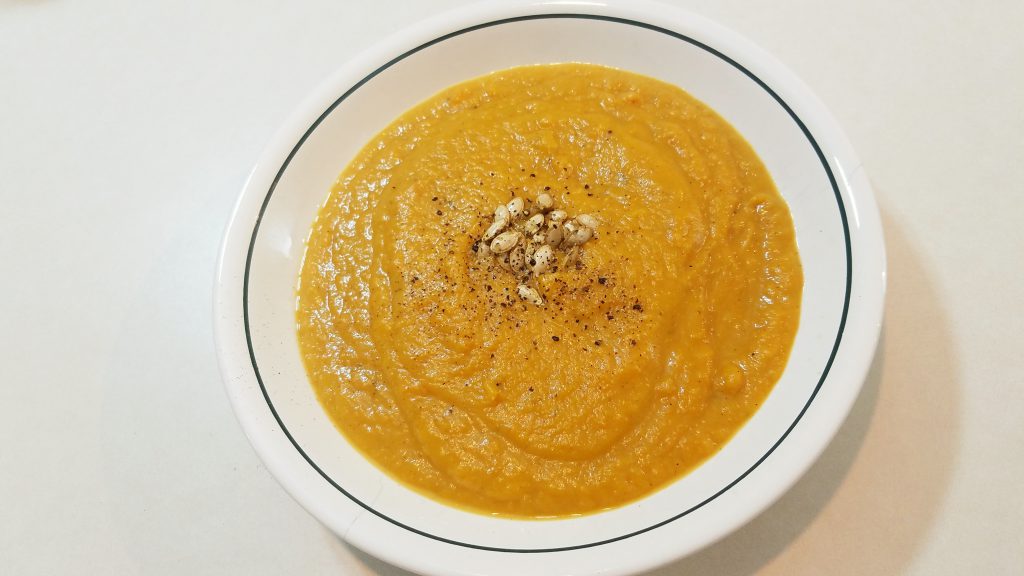 I love soup. You give me a bowl of warm soup and I am your best friend! Warm soup. Not cold soup. I can't stand cold soup. Or tomato-based soups. I am sorry for my Italian friends but do not like Minestrone soup. Or tomato bisque. Nope, I will pass on both. But other than those, I love me a nice warm bowl of soup.
Years ago I went to a restaurant and ordered my first bowl of butternut soup. It was ok, it wasn't bad, but it needed something. So I went home determined to come up with a recipe for butternut squash soup. Throughout the years, I have tweaked until it is the beauty that I make today! I am always tweaking recipes. I guess is the scientist part of me, always tinkering with recipes to improve the taste, the texture or the look. But I digress.
The first time I made this recipe, I made it with Calabaza (Caribbean or West Indies squash). Growing up, calabaza was a staple in our house. My mom would boil it, put it in beans or make it in fritters. My grandma Berta would make the most delicious "torta de calabaza", a crustless squash pie that it was to die for! So when it was time to make my first squash soup, it was natural I used calabaza. And you know what, it came out fantastic!! I loved it! So then, it was more time to experiment and I made the soup using other squashes and pumpkins: acorn, butternut, buttercup, and Kabocha (Japanese pumpkin). And the result: they were awesome!! You can make this soup pretty much with any of those, it will turn out delicious!
I added sweet potatoes to the soup to help give it a little more body. Squash can be a little watery, so the starch from the potatoes will help give firmness to the soup. And roasted potatoes go so well with squash, they enhance each other's flavor!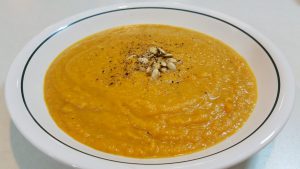 I prefer to roast the squash and sweet potatoes before cooking into the soup. Roasting highlights the sugars on the squash and makes the flavors pop! I cook it with skin and then just scoop it, but you could peel it and cut it into pieces if you prefer. You could use a can, or boil them, but you will be missing a lot of flavor and nutrients.
You will need some kind of blending machine to run your soup through. You could have the soup chunky if you prefer it that way, but it is so much better when it silky and smooth. I used my blender, but you could use a food processor or an immersion blender. They both will do the trick. An immersion blender would the best because it will save you the extra step of pouring into blender back and forth. When you are cooking the soup, one good word of advice: watch out! It is HOT! That deliciousness starts to bubble and if it falls on your skin, you will remember it!
Don't throw away the seeds! Roasted, they are so good. I included a recipe on how to roast the seeds, is very simple and adds crunchiness to the soup. I love it!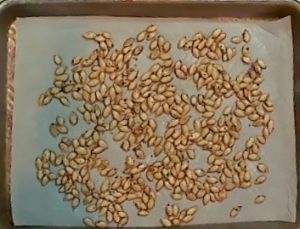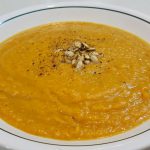 Roasted Butternut Squash Soup
This time of the year, with such abundance of pumpkin and squash, why not warm yourself up with a hearty velvety delicious soup. I am using butternut squash and sweet potatoes, but it can easily be replaced by acorn squash, baking pumpkin, Calabaza (Caribbean squash) or any other squash you enjoy. The soup is creamy, warm and will lift your spirits!
Print
Ingredients
Roasted Butternut squash and sweet potatoes
4

lbs

butternut squash

1 large

1.5

lbs

sweet potatoes

2 medium

olive oil

salt

pepper
Soup
1

cup

onions

chopped

1

cup

carrots

chopped

1

tsp

garlic

minced

1

tsp

ginger

minced

2

tbsp

butter

1

tsp

olive oil

1

tsp

thyme

1

bay leaf

4

cups

chicken broth

1

tbsp

brown sugar

optional

¼

tsp

cinnamon

¼

tsp

allspice

1

cup

half and half

Salt

Black pepper
Instructions
Roasting
Preheat oven to 400 degrees F. Cut the squash from top to bottom and scoop all the seeds. Cut the sweet potatoes lengthwise. Place all the parts in a baking sheet and drizzle with olive oil, salt, and pepper. Cook in the oven for an hour or until the squash and sweet potatoes are easily pierced by a fork or the tip of a knife.

Once they are cool, spoon them into a container and discard the skins.
Soup
In a large saucepan, melt the butter, add the olive oil and sauté the onions, carrots, garlic, and ginger. Cook until softened. Season with salt, pepper, and thyme.

Add the bay leaf, the roasted squash, sweet potatoes, and chicken broth and simmer for 20 minutes. using an immersion blender, blend soup until creamy. If you do not have an immersion blender, carefully transfer batches of the hot soup to a blender.

Return the soup to the saucepan and add cinnamon, allspice and half & half. Simmer for 15 minutes.

Garnish with roasted butternut squash seeds and cracked black pepper.
Nutrition Facts
Roasted Butternut Squash Soup
Amount Per Serving
Calories 257
Calories from Fat 63
% Daily Value*
Fat 7g11%
Cholesterol 18mg6%
Sodium 524mg23%
Potassium 1218mg35%
Carbohydrates 47g16%
Protein 5g10%
Vitamin A 36370IU727%
Vitamin C 58.3mg71%
Calcium 173mg17%
Iron 2.3mg13%
* Percent Daily Values are based on a 2000 calorie diet.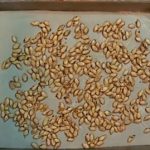 Roasted Butternut Squash Seeds
Why throw away the seeds from your squash, when you can roast them? It is very simple to do and they are delicious.
Print
Ingredients
Ingredients:
1

cup

butternut squash seeds

1

tbsp

olive oil

Salt

Pepper
Instructions
Instructions:
Preheat the oven to 275 degrees F (135 degrees C). Line a baking sheet with parchment paper or aluminum foil.

After removing the seeds from the squash, rinse with water, and remove any strings and bits of squash. Pat dry, and place in a small bowl. Stir the olive oil and salt into the seeds until evenly coated. Spread out in an even layer on the prepared baking sheet.

Bake for 15 minutes, or until seeds start to pop. Remove from oven and cool on the baking sheet before serving.
Recipe Notes
You can do this with the seeds of any squash or pumpkin. Add a little of cayenne pepper for spicier seeds. If you want them a little bit crunchier, increase the temperature to 300 degrees F and roast for 15 minutes or until you reach the desired crunchiness. 
Nutrition Facts
Roasted Butternut Squash Seeds
Amount Per Serving
Calories 121
Calories from Fat 99
% Daily Value*
Fat 11g17%
Cholesterol 0mg0%
Sodium 291mg13%
Potassium 129mg4%
Carbohydrates 1g0%
Protein 4g8%
Vitamin C 0.3mg0%
Calcium 7mg1%
Iron 1.4mg8%
* Percent Daily Values are based on a 2000 calorie diet.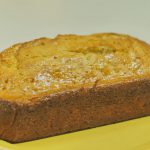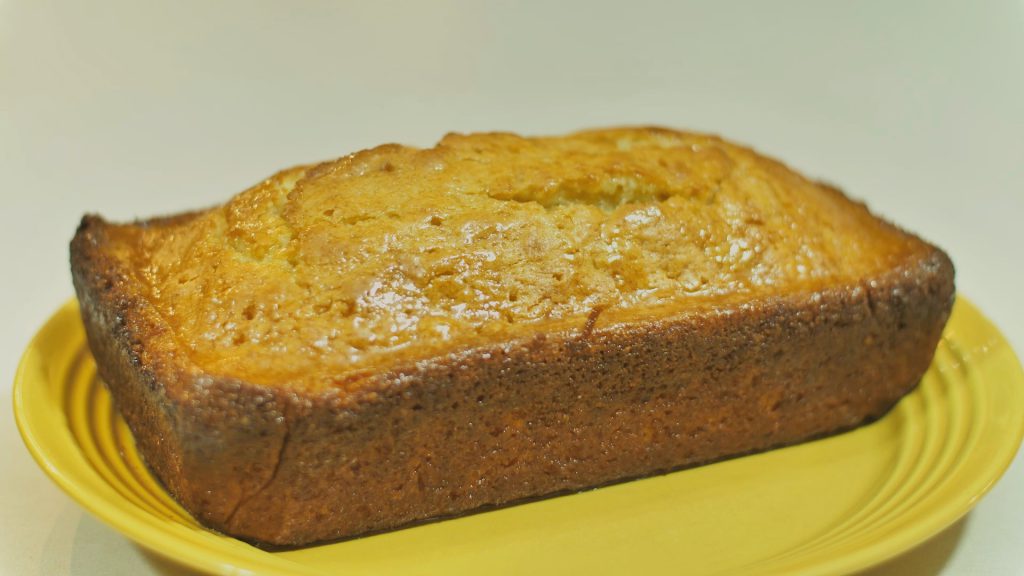 There is coconut. And there is cake. And Rum. What is not to love?! This coconut rum cake is outstanding! Some time ago one of my ex-coworkers brought this delicious cake to the office and we were all in love! Even though it didn't have rum, it was still delicious. So I asked him for the recipe. I brought it home, and my husband, who is more of the baker in our home, tweaked the recipe, and amongst other things, added the rum and voila! Delicious coconut rum cake!
I have brought it to many parties. And gifted it for the Holidays many times. It is just a very easy to make cake that travels easily and wraps perfect for a special gift.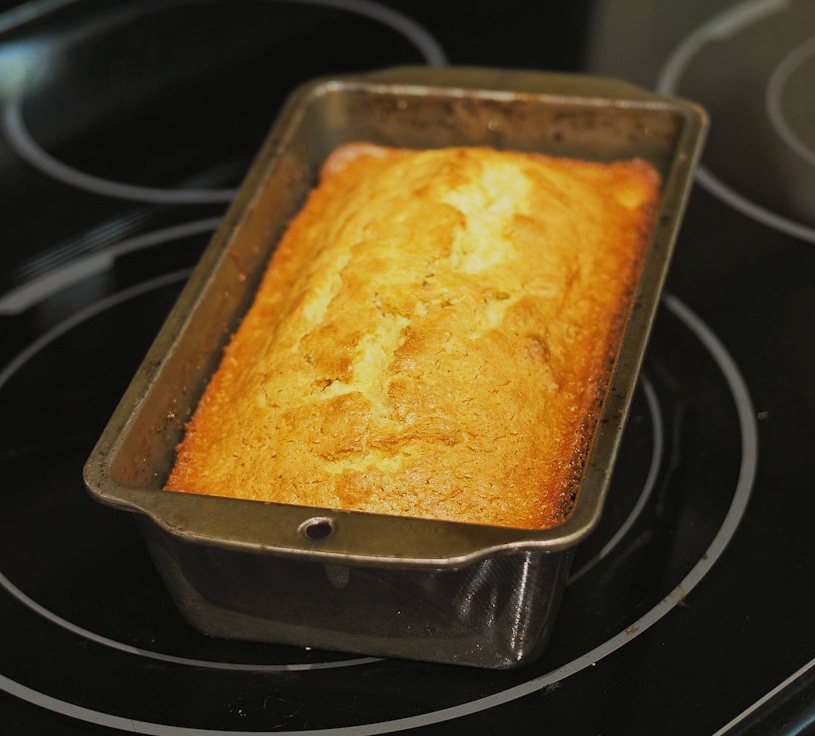 I use coconut rum. But you can easily make it without the rum if you aren't interested in the rum part. Just replace the rum with water, it works the same. But if you prefer the rum, you don't have to limit yourself to coconut rum. My husband prefers it with spiced rum or dark rum and it is delicious. It's not as "coconutty" in flavor as when you add the coconut rum, but the flavors of the other rums add a different dimension that you will not mind!
Buttermilk is not something that I always have in my refrigerator. And sometimes, when inspiration hits, I don't want to make a trip to the grocery store. I would much rather use what I have at home. So I have learned to come up with substitutions for the buttermilk that works almost as good. Almost. For example, you can use a cup of whole milk and add 1 tbsp of either white vinegar or lemon juice and let it sit for 5 minutes until it curdles. Or you can replace the buttermilk with plain yogurt. Both of those work really well and will not greatly change the taste of your cake.
This episode is a very special one. My friend Ron Burgandy offered to record and direct this episode and of course I said Yes!! He is brilliant! He is the owner of Studios KRP (http://www.studiokrp.com) and his films and videos are superb! This episode is filmed in 4K and his ideas were so much fun! I am sure you are going to enjoy it as much as we did! Also, we got the pleasure of having one of my best friends, Zumba Celina (https://www.facebook.com/ZumbawithCelina) make an appearance in the video. She is much loved and I am so happy she was able to join me!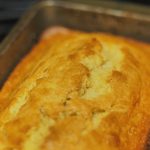 Coconut Rum Cake
This is an awesome cake, great coconut flavor! The glaze can be made with coconut rum, or if you prefer nonalcoholic, you can replace the rum with water. It will be as delicious either way!
Print
Ingredients
Group 1:
2

eggs

½

cup

oil

1

cups

sugar

1

tsp.

coconut flavoring

1

tsp

vanilla
Group 2:
1.5

cups

flour

¼

tsp.

baking powder

¼

tsp.

baking soda

¼

tsp.

salt
Group 3:
½

cup

Baker's shredded coconut

½

cup

buttermilk
Glaze:
½

cup

sugar

1

tsp.

butter

¼

cup

coconut rum

or water

½

tsp.

coconut flavoring
Instructions
Cake:
Preheat oven to 350 degrees.

Grease and Flour a non-stick loaf pan.

Mix the ingredients in separate bowls following the groupings above.

Combine group 1 and 2 into a larger bowl and mix thoroughly. Add group 3 last and mix thoroughly. Fill greased and floured loaf pan. Bake cake in preheated oven at 350 degrees for 45-50 minutes or until inserted knife comes out clean.
Glaze:
Mix rum, sugar and melted butter in a pan until dissolved. Just barely boil the rum until the sugar dissolves as not to boil off all the alcohol. If using water, mix the ingredients and boil until sugar dissolves. Add in coconut flavoring last.

With a toothpick, poke small holes in the top of the cake. Pour the hot glaze over the top of the warm cake while still in the pan. The glaze will ooze down around the cake and soak into the cake from the top, and sides. Cool and remove carefully.
Nutrition Facts
Coconut Rum Cake
Amount Per Serving (8 g)
Calories 402
Calories from Fat 144
% Daily Value*
Fat 16g25%
Cholesterol 43mg14%
Sodium 138mg6%
Potassium 76mg2%
Carbohydrates 56g19%
Protein 4g8%
Vitamin A 100IU2%
Calcium 34mg3%
Iron 1.3mg7%
* Percent Daily Values are based on a 2000 calorie diet.