Monthly Archives:
May 2020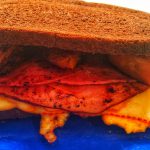 My mom makes THE best breakfast sandwich (#mymomisthebestcook)!! Every Sunday after church we would stop at the "panaderia" (bakery) and get some freshly made Pan de Agua (Water bread). It similar to Cuban, French,  or Italian bread, has the same ingredients but different ways to bake it. Then we would go home and she would fry some eggs, ham, and sweet plantains and she would make this bundle of deliciousness that would make any Sunday a real Glorious day! Every time we would have friends come over to visit my mom, she would make those for breakfast and they always go crazy over it.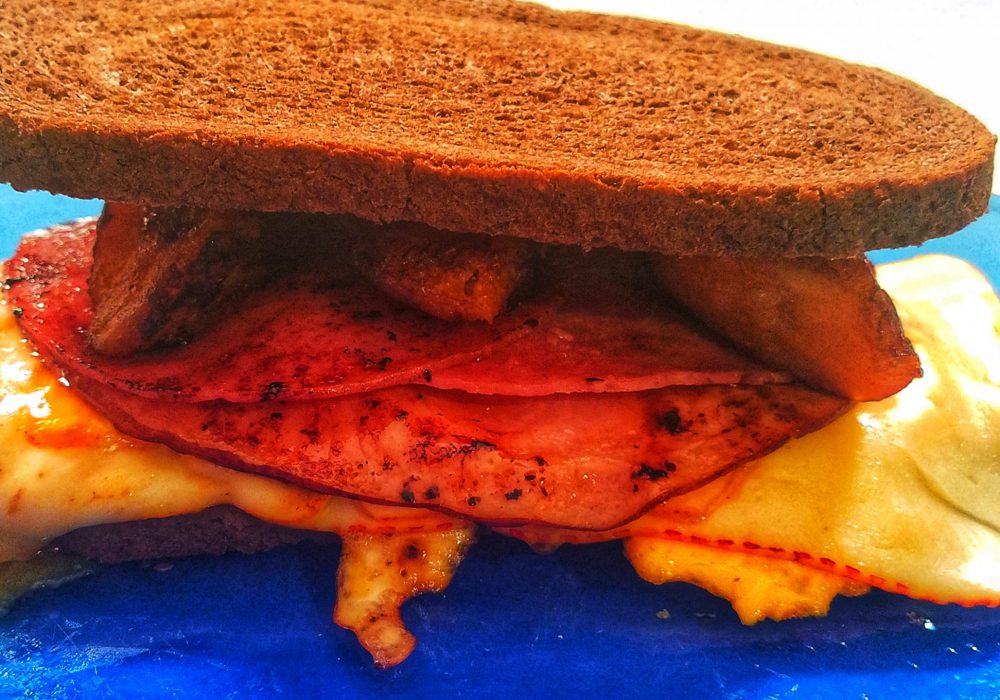 If you don't access to Water Bread (or Cuban, French, or Italian), you can use really any type of bread you want. The idea is for the bread to be warm but not hard. It is difficult to eat a sandwich when the bread is so hard. On the photo, I used Jewish rye (I LOVE Rye bread) and in the video, I used sourdough bread. But any type of slice bread will work.
You can use any type of cheese you want. Usually, we made it with Cheddar or Gouda, but any cheese that melts will work. You want to give it a kick, add some Pepperjack, Yummmm!!!!
When frying the eggs, the hardness of the yolks is going to be determined by how messy you want your sandwich. The softer the yolk, the messier is going to be, but to me, its more flavorful that way. Sometimes I put a pinch of salt and pepper when frying the eggs, but with the cheese and the ham, it is not really necessary. I don't use a lot of oil when frying the eggs, most of the times just a thin coat of oil does the trick. I usually put the ham in the same pan I am frying the eggs because really all you want is to warm up the ham. A light browning does it.
You can replace the ham for bacon, prosciutto, salami, mortadella (yummm!!), or any other sliced meat you prefer. To me, ham is the winner!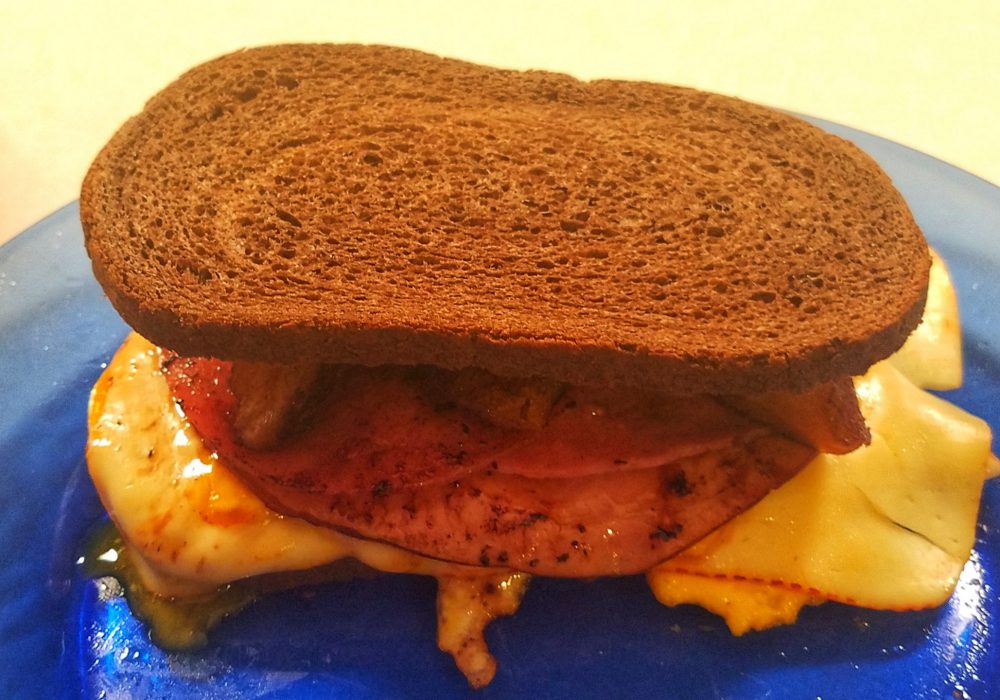 When making the plantains, you can cheat a little. A lot of grocery stores have sweet plantains in the freezer section, partly cooked. All you have to do is open your container, and fried them in oil. If you want to go more traditional, get some ripe plantains from the produce, peel them, cut them in 1-inch (25 mm) diagonal slices. The more oil, the easier it will be to fry. I don't like to have oil all over the stove, so I use a little oil and keep a close eye. You want them a pretty brown, not black. Brown means the sugars are caramelizing and they will be outstanding.
I hope you enjoy this sandwich as much as we do! Buen Provecho from my mom and me!!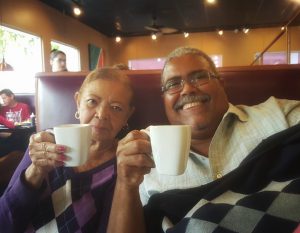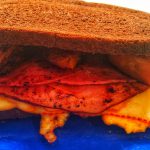 Mom's Famous Breakfast Sandwich
My mom makes the most delicious breakfast sandwich you will ever have! At least it is to me! Its simple to make and I am sure you will want seconds!
Print
Ingredients
2

eggs

Fried

2

slices

ham

Fried

2

slices

cheese

Your choice

2

slices

Bread

Somewhat toasted but not too hard.

3

pieces

Sweet Plantains

Fried

1

pinch

Salt

Optional

1

pinch

Pepper

Optional
Instructions
Fried your sweet plantains and ham and keep warm.

Fried the eggs to the point of the yolk to be a little bit runny or completely cooked. You could sprinkle some salt and pepper to the egg while frying, it is optional. Ligthly toast the bread.

Assemble the sandwich, slice of bread, eggs, cheese, ham, sweet plantains and second slice of bread.
Recipe Notes
You could use any bread you prefer, my mom always made it with Water Bread, but you would use any type of bread you prefer. 
Nutrition Facts
Mom's Famous Breakfast Sandwich
Amount Per Serving
Calories 643
Calories from Fat 342
% Daily Value*
Fat 38g58%
Cholesterol 421mg140%
Sodium 1467mg64%
Potassium 438mg13%
Carbohydrates 30g10%
Protein 43g86%
Vitamin A 1036IU21%
Calcium 530mg53%
Iron 4mg22%
* Percent Daily Values are based on a 2000 calorie diet.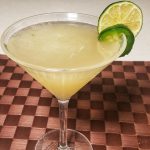 Tirzah is one of my followers. She is very nice and was talking to me about a Jalapeno Margarita she had in a restaurant and how much she loved it. She asked me to make a recipe for one because she would like to make it at home. So here it is!
It is so delicious, a little spicy, a nice version of a margarita. I am so hooked on them that know I prefer it over a regular margarita!
Use good quality tequila. Better ingredients make better drinks! Use fresh lime juice and fresh jalapeno. Trust me, you are not going to regret it!  I use agave syrup because it goes best with tequila, that comes out of agave. But you can use honey if you prefer. It works too.
Shake it with a handful of ice, garnish with a slice of jalapeno and lime and enjoy it!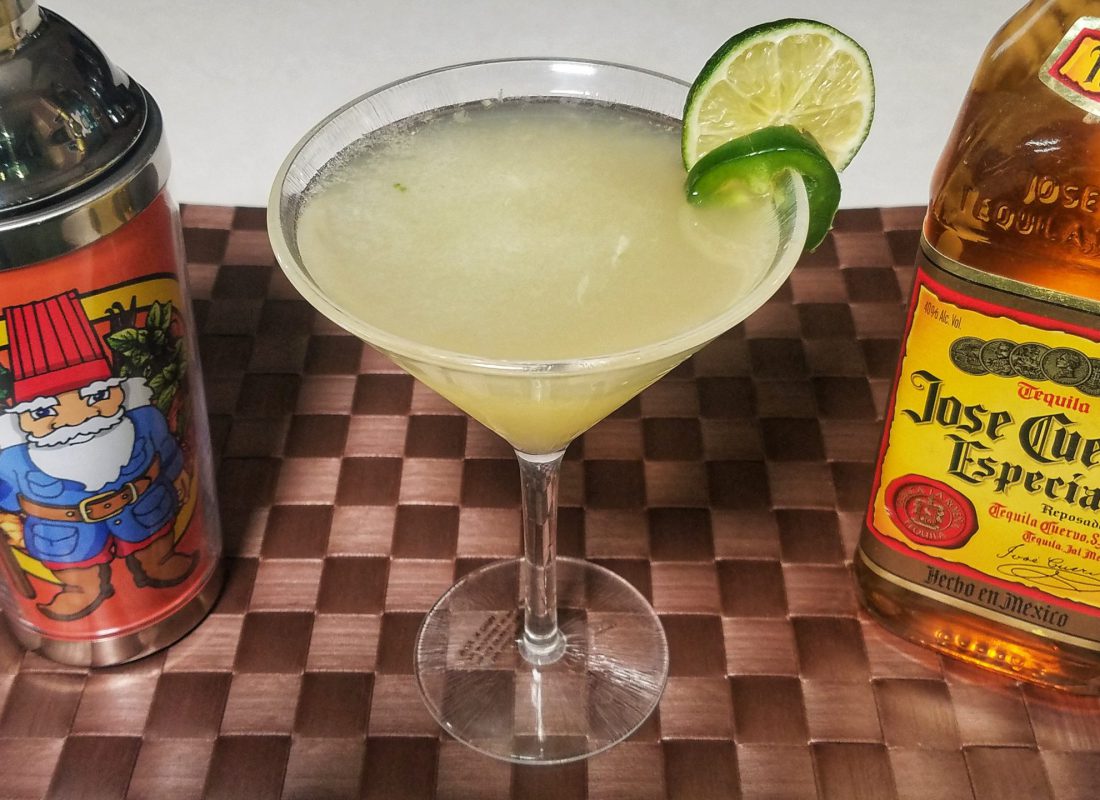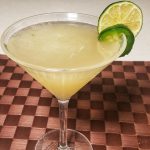 Jalapeno Margarita
This is an awesome margarita made with tequila that has been soaked in jalapenos! It is so good, you will have more than one!!
Print
Ingredients
4

oz

Tequila

Good quality

2

oz

Lime Juice

fresh

2

oz

Cointreau

Or any Orange Liquor

1/2

tsp

Agave syrup

or Honey

1

Jalapeno pepper

Fresh

Ice cubes

Handfull
Instructions
Cut half the jalapeno pepper, remove stems and seeds and place in a jar with 4 oz of tequila. Muddle the jalapeno until they are soft and let sit covered in the jar for 20 to 25 minutes. If you prefer it stronger, leave the seeds and increase the time in the jar to 2 hours.

Once your tequila is infused with the jalapeno, mix in a shaker the tequila, Cointreau, lime juice, agave syrup, and ice. Shake really well and pour in a margarita glass. Garnish with a slice of jalapeno and lime. Enjoy!
Nutrition Facts
Jalapeno Margarita
Amount Per Serving
Calories 427
Calories from Fat 9
% Daily Value*
Fat 1g2%
Sodium 3mg0%
Potassium 66mg2%
Carbohydrates 10g3%
Protein 1g2%
Vitamin A 151IU3%
Vitamin C 34mg41%
* Percent Daily Values are based on a 2000 calorie diet.