Monthly Archives:
April 2020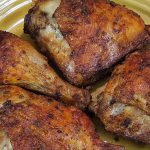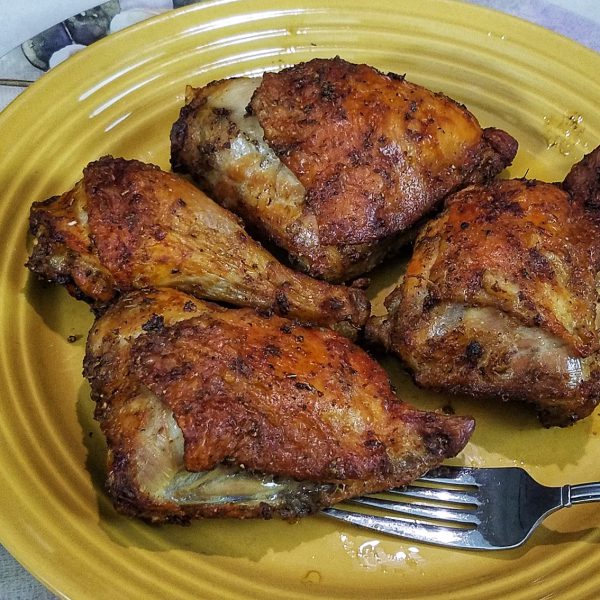 Fried Chicken is the Best! No question about it! When I was growing up and learning to cook, fried chicken was one of the easiest and most delicious things I learned to make. We didn't use flour to fry it, just season it and dump it on the hot oil. The skin came out crispy and with all the seasoning, the flavor was fantastic! For us, there was fried chicken and breaded chicken. Breading was an option, but not the norm.
Now here in the US, fried chicken is always breaded. Nothing wrong with that. I am a loyal fan of southern fried chicken!! I will never say no to good fried chicken.  But when I make fried chicken at home, I always go back to my roots of chicken without the breading. And when I finally got my air fryer, is like the Sky open and the Angels came out singing the beautiful news of frying without oil!!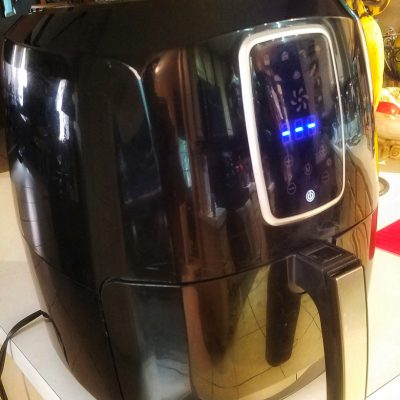 This is my Air Fryer. It is a Maxi Matic Elite Platinum 5.5 Qt Air Fryer, got it on sale for a Black Friday 2 years ago. That poor thing has been thru cooking hell and abuse. Some of the parts are broken, and you can tell it has been used, a lot.  We use it at least 4 or 5 days a week. Somedays, it makes lunch and dinner! Next to the stove, it is second most used appliance in my kitchen. Ok, so probably do not compete with the microwave or the Keurig, but it is really close. We make so many things in that thing, sometimes I wonder how we survived without it. But I digress.
The best thing for me of this air fryer is the fact that I do not have to use tons of oil. Until the air fryer makes it appearance in my house, I fried very little. I just can't stand oil everywhere on the stove and the smell of frying oil, not a pleasant thing after you ate your chicken, trust me. Not to mention that when you are frying, you are adding more fat to your meal. I have no problem with fat, God knows I have plenty of it. But try to cut whenever I can.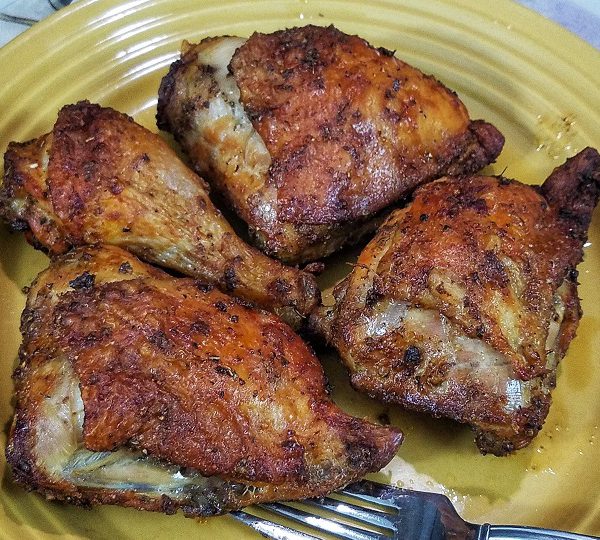 This recipe is one of the easiest recipes to make fried chicken you will ever find. You just take chicken pieces, dump a bunch of spices and herbs on them, cover them and throw them in the air fryer. That is it. As simple as that. The hardest part is actually cutting the chicken. I use chicken leg quarters because they are so flavorful and cheap! But you could very easy replace the legs and thighs with wings, chicken breast or even the whole chicken cut in pieces. The seasoning will also work for pork chops.
The hardest thing that is not available everywhere is the Sazon. Sazon is a seasoning used in Latin cuisine for seasoning and coloring. It is used in stewes, soups and rice. My  mom always thought me to use it on chicken and pork. It adds to the flavor of your meat and gives it a nice color, especially if you are frying or roasting the meat. But if you are not able to find Sazon at your grocery store, you can replace it with annatto, smoked paprika or even turmeric. You can read more about annatto on my of my posts, it is a very interesting seasoning. If you don't have garlic paste available, replace it with 1 tablespoon of garlic powder. If you use garlic salt, then reduce the amount of salt used in the recipe.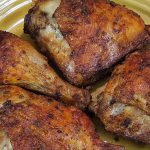 Fried Chicken on the Air Fryer
This is a super easy recipe on how to make fried chicken without flour and very little oil, but still packing a punch of flavor!
Print
Ingredients
1

tsp

sea salt

1

tsp

black pepper

1.5

tbsp

garlic paste

1

tsp

oregano

1/2

tsp

coriander

1/2

tsp

cumin

1/4

tsp

sage

1/8

tsp

cayenne pepper

1.5

tsp

Sazon

1 packet

1

tbsp

olive oil

2

lbs

chicken leg quarters

cutted, trimmed and clean
Instructions
Set your air fryer to 400° F (204° C) for 3 minutes to warm up the basket.

Place the chick legs and thighs in a large bowl. Throw all the other ingredients in the bowl with the chicken and mix until all the legs and things are evenly covered by the mix of spices and herbs.

LIghtly spray the basket with spray oil to prevent chicken from sticking.

Place the chicken pieces skin up, side by side in the basket. They can touch each other, just not on top of each other. Place basket in the air fryer and set it to 400° F (204° C) for 10 minutes.

Open the basket, flip the chicken pieces and put the basket back in the air fryer and cook at the same temperature for another 10 minutes.

Open the basket, flip the chicken pieces again and put the basket back in the air fryer, and cook at the same temperature for 5 mintes. Once done, let chicken set for a few minutes and enjoy!!
Recipe Notes
I prefer to use legs and thighs, but you could very easily use wings or even a whole the whole chicken cut in pieces. Just be aware, the bigger the pieces, the longer it will take for the chicken to cook, so last cooking time, add 1 or 2 minutes extra. 
If Sazon is not available, you can replace it with 1 tsp of powder annatto, smoked paprika or even turmeric. The Sazon not only adds flavor to the chicken but also color. The annatto, paprika and turmeric will do the same. 
Nutrition Facts
Fried Chicken on the Air Fryer
Amount Per Serving
Calories 465
Calories from Fat 324
% Daily Value*
Fat 36g55%
Cholesterol 189mg63%
Sodium 867mg38%
Potassium 418mg12%
Carbohydrates 3g1%
Protein 32g64%
Vitamin A 176IU4%
Vitamin C 2mg2%
Calcium 34mg3%
Iron 2mg11%
* Percent Daily Values are based on a 2000 calorie diet.