Jade Noodles (Happy Bowl)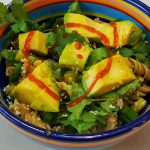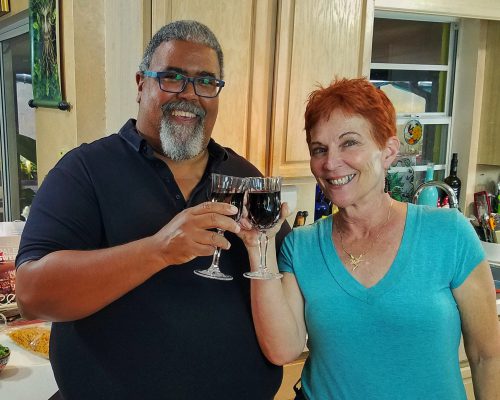 Welcome to 2019! A little bit late, but better late than never! This year I have decided to learn things I have not done much before. I am practicing baking more than before. And vegetarian cooking is one of those things I have always been curious about. I can make a few vegetarian dishes, but really want to increase my repertoire. Not knowing much about vegetarian cooking, I went to my expert, my great friend Kendra Musselle, Actress extraordinaire, Goddess of the Universe, Mistress of the Vegetarian Kitchen! We talked about it, she sent me some recipes, I picked one I liked and on a Sunday we got together and cooked this delicious bowl of goodness Kendra calls Jade Noodles, but we decided to rename it Happy Bowl!
Happy Bowl is a mix of tofu, noodles and lightly blanched green vegetables in this delicious Asian sauce. I have to admit when Kendra told me tofu I was like "Tofu? Hmmmm, I am not sure about that." I had tofu before and it wasn't always an inspiring situation to try it again. It wasn't until Kendra taught me how to address the tofu that I realized why I didn't care much for tofu before. Tofu doesn't have much flavor and the consistency is different. It comes in several types of consistencies: silken, regular, firm, extra firm and super firm. The silken type is soft almost like cream cheese. The super firm has the consistency of meat, it is dense. What makes them different is the amount of water in the tofu.
Think of tofu as a sponge. The wetter the sponge, the less amount of extra liquid is going to absorb. But the drier it is, the more chances it has to absorb extra liquid. So when we made this dish, we needed the tofu to be relatively dry so it could absorb the sauce. We wanted the tofu to be firm so it would not fall apart when cooking it, that is why we decided for the extra firm. What we did, is we first drained the liquid from the tofu. Then placed the block of the block in a towel so it could absorb the liquid. Wrapped the tofu in the towel, placed a plastic bag on top of the towel and put a relatively heavy book on top of it. The idea is for the weight of the book to force the liquid out of the tofu. We did that for 15 minutes and then chopped the tofu into 1/2 inch squares, bite-size, easy to eat and easy to absorb the sauce.
We are using tofu for this recipe but it could very easily be replaced by chicken breasts, shrimp or even pork chunks. The important part is to set them in the sauce to marinade before cooking them. If you are using any of these meats, I would let them marinade for at least 1 hour so they can absorb the flavors. The tofu doesn't need as long to marinade as the meat does.
Make sure you use good quality virgin olive oil and sesame oil. Crappy oils will alter the flavor of your food. We used soy sauce in this recipe, but you could also use liquid amino acids or ponzu sauce. They are all pretty close in flavor. Liquid amino acids are a way many vegetarians have to get certain amino acids they are not getting on their diet. Ponzu sauce is a citrusy sauce that is used in Japanese cuisine. I love it over rice! Yummm!!
Lemongrass is a common ingredient in Asian food. And it is part of the sauce for this recipe. But who has the time to smash lemongrass and paste it? I know I don't! That is why I used lemongrass in a tube!! It will make your life so easy and I have found myself cooking other recipes that call for lemongrass since it is so easy to add from the tube. Same thing with the ginger. Ginger in a tube is fantastic. Trader Joes Ginger Paste is really good and will save you a lot of time!
When it comes to pasta, you can use any noodle you wish: soba, rice noodles, linguini, thin spaghetti or any noodle you like. We used this awesome Chickpea rotini pasta from Banza that I love! It is all made from chickpeas, so it is high in protein and if you have issues with gluten, they are gluten-free. It cooks just like regular pasta and tastes delicious!!
You can use pretty much any vegetables that you like. But since they are Jade Noodles, we stayed with green vegetables. Since you are blanching them lightly, they retain all the vitamins and minerals that are so good for you. For garnishes, we used avocados (because I LOVE avocados), cilantro (I LOVE Cilantro), sesame seeds and scallions (green onions). You could also use toasted peanuts, crunchy rice noodles or anything that tickles your fancy.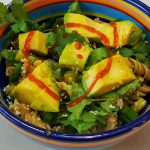 Jade noodles ("Happy Bowl")
This delicious bowl of pasta, tofu, and vegetables is so simple to make and very tasty. The tofu is drained and pressed so it absorbs the Asian flavors on the sauce.
Print
Ingredients
Ingredients:
14

oz

block extra firm tofu

drained and pressed

8

oz

dry noodles

linguini, soba, thin spaghetti, rice noodles, bean noodles etc.

1/3

lbs.

asparagus dice bite size

1/3

lbs.

snow peas

1

lb.

broccoli diced bite size

8

oz

shelled edamame

1

cup

handfuls fresh baby spinach

3

scallions sliced

garnishes: avocado

sesame seeds, cilantro, sprouts (optional)
Sauce:
2

tbsp

olive oil

2

tbsp

sesame oil

1/3

cup

soy sauce

ponzu sauce or liquid aminos

1/4

cup

rice wine vinegar

1

tbsp

lime juice

2

tbsp

lemongrass

2

tbsp

ginger

2

tbsp

chili sauce

1

tbsp

sriracha

2

cloves

garlic minced
Instructions
Dice tofu into small cubes, approximately ½ inch.

Mix all the ingredients for the sauce in medium bowl. Add tofu cubes to marinate for 15 -20 minutes.

Cook pasta in large pot.

In a pan, cook the tofu with the sauce for 5 minutes or until it starts to boil. Turn heat off.

During the last couple minutes of pasta cooking, add broccoli, asparagus, snow peas, spinach and edamame to water to blanch, until they turn bright green, 2-3 minutes.

Drain well and place in large bowl.

Pour tofu and sauce over the top.

Add scallions and mix together well.

Serve in bowls and garnish with avocado, sesame seeds cilantro and sprouts.

Add extra siracha or soy sauce (optional).
Recipe Notes
We used chickpea pasta, but you can use any pasta of your liking.  If using linguini or any long pasta, would be best to break it into smaller pieces. 
If you prefer not to use tofu, you can replace it with chicken breast, shrimp or even pork. 
Nutrition Facts
Jade noodles ("Happy Bowl")
Amount Per Serving
Calories 427
Calories from Fat 162
% Daily Value*
Fat 18g28%
Sodium 1152mg50%
Potassium 862mg25%
Carbohydrates 46g15%
Protein 28g56%
Vitamin A 1800IU36%
Vitamin C 110.7mg134%
Calcium 164mg16%
Iron 9.1mg51%
* Percent Daily Values are based on a 2000 calorie diet.